About Brettzky's
---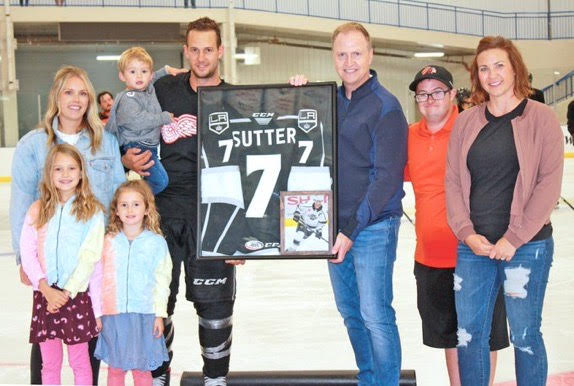 It started as a way to get old friends together for a fun weekend. Now, Seven editions later, the Brettzky's Hockey Challenge raised over $227,000 for local charities.
The Brettzky's Hockey Challenge is a week-long event, organized by Ontario Reign Captain Brett Sutter. The event takes place in early August in Viking, Alberta and has raised over $227,000 to support local youth sports and activities. Brettzky's is a fundraising hockey event that has been held each of the past five years - The event is technically a hockey tournament but the hockey is secondary to what goes on away from the ice.
The week starts with a free, five-day youth hockey camp that is offered to local kids. Held in Brett's hometown of Viking, the youth camp serves as a kick start to the week. Beginning on Thursday, the adult hockey players roll into town to prepare for the tournament and other festivities, including music, dinners and a large banquet (Brett estimated 400 - 500 people in attendance at the banquet).
"We have a couple of events, live bands and all sorts of stuff that raises money and it all goes towards a bunch of different local youth sports and other programs," Brett said. "It's a really good cause and the people in Viking have given us tons of support. We have tons of volunteers now, every event has been super busy".
Brettzky's has been raising thousands of dollars for years now. The first event, held in 2015, actually started simply as a way to get old friends together, "buddies that don't get to see each other very often" as Brett put it.
"I rented a bunch of ice and we started our own little event, Brett said. "As it grew and more and more people wanted to join, we decided we'd pick a charity and we raised over $15,000 that first year. It's grown from there, everyone really loved it that first year so we decided to just keep going with it and now it's a huge event."
A huge event indeed - The weekend banquet raises the majority of the total funds, including jerseys from NHL superstars past and present, trips, experiences and plenty of local flavor with many Viking businesses contributing to the cause as well.
"Tons of NHL teams and people associated with NHL teams donated items, tons of jerseys and some trips got donated," Brett said. "A lot of the money raised is through sponsorships or donations to the auction and we got a big turnout with four to five hundred people, lots of eyes on the auction items."
This 2018 events biggest seller was a 50-person bus trip - donated by Brett's uncle - to a Red Deer Rebels WHL game. The winner of the trip can select 50 people to get free bus transportation to the game, plus complimentary tickets and dinner.
Other big-ticket items included Brett's framed jersey from the 2018 AHL All-Star Classic, his first All-Star selection as a professional, and jerseys from NHL superstars including Alex Ovechkin and former Edmonton Oilers great Paul Coffey. Brett estimated that most of these jerseys went between $1,500 and $2,500 to bolster the total donation.
"We get a little bit of everything," he said. "People from town donate a lot from their businesses so you get things for everyone, kids, men, women, there's a bit of everything in there. People always get excited to see what's there and every year we've raised more than the year before, so we're heading in the right direction."
Another fun part of the 2018 weekend was the "marquee event" - A game on Friday night, featuring a senior team, the Chicken Hawks, that used to participate in the tournament. Included in that game was Brett's father, former Kings Head coach Darryl Sutter.
"We had a really great crowd for that - It was the buzz around town all weekend, everyone was really excited for that game," Brett said. "It actually ended up in a 6-6 tie after the shootout, it couldn't have been scripted any better."
Brett mentioned that Darryl scored a big, game-tying goal late in the game - and that things may have gotten a bit chippy with the high competitive level on the ice - but in the end it was "great fun and the highlight of the weekend" in Brett's words.
At the end of the day, while hockey is played and a champion is crowned - the event is more about the sense of community that comes from such a great weekend."
"The hockey, everyone gets competitive, but it's more about bringing everyone in the town together," Brett said. "The rink is always busy, people get the chance to see kids who grew up in Viking play and you just run into a lot of people that are from Viking and came back. It's a great way to bring people together, whether they're playing or just coming to take part in the festivities."